保険について / About insurance

対人 : 無制限
対物 : 1000万
搭乗者傷害 : 500万 (死亡または後遺障害のみ)
盗難補償 : 無し
ロードサービス:有り

Third party bodily injury/death per person / Unlimited.
Third party property damage per occurrence / Up to 10 million yen .
Injury of the driver and or passenger / Up to 5 million yen per person. Limited to disability or death.
Theft insurance / None
Road service / Yes
料金 / Rental charge
Vespa 50s (85cc)
1日/7000円(税込み)(9時~19時)
2日目以降/3500円1日毎(税込み)

1 day / 7000yen (include tax)(9 a.m - 7 p.m)
After the second day / 3500yen per day(include tax)


Vespa 100 ・ LX125
1日/8000円(税込み)(9時~19時)
2日目以降/4000円1日毎(税込み)

1 day / 8000yen (include tax)(9 a.m - 7 p.m)
After the second day / 4000yen per day(include tax)

貸し出し装備(無料)/ Equipment (free)
ヘルメット・グローブ・カッパ・スマホホルダー
・スマホ充電コード(LX125のみ)

Helmet / groves / rain coat / holder of smart phone / USB for battery charge (only for LX125)



オプション(任意加入)/ Option

車両補償 : 1500円(税込み) / 免責5万円

Vehicle compensation : 1500yen(include tax) / Disclaimer 50000yen
京都市内は駐車違反の取り締まりが非常に厳しいです。駐車の際は必ず駐車場や駐輪場に駐車してください。
Please don't park any public road! Japanese police is very strict. Whenever you park, please park in parking place!
駐車違反の処理手続きについて / About illegal parking

レンタルしたベスパに確認標章が取り付けられた場合、お客様に違反手続きを行っていただく必要があります。
下記手順に沿って、手続きを行って下さい。
If you find confirmation mark about illegal parking on vespa or have traffic offence, you have to pay the penalty by yourself.
So please tell me asap by phone, if you find it.

●「確認標章」に記載された警察署で反則金の納付をして下さい。
You have to pay the penalty at police office described on comfirmation mark.
●車両ご返却時に交通反則告知書と反則金の納入証明書(領収書など)をご提示下さい。
Please show me the documents that you got at police office when return vespa.


納付滞納した場合 / In case default

駐車違反の確認標章が取り付けられた場合に警察署へ納付を行わず、そのまま返却された場合、後日警察署から当店へ通知書が送付されるため、必ず違反が発覚します。
その場合、当店よりお客様に、違約金¥50,000を請求致します。
また今後のレンタルご利用をお断りすることになります。
If you didn't pay penalty, police notify it soon to me. I have to charge 50000 yen per penalty.
And you can't borrow vespa never.

※後日、警察署に出頭し、反則金の納付を行った場合、違約料および違約金はご返金致します。
また、出頭を行わない場合、公安委員会より公訴提起(刑事手続き)される可能性がありますので、ご注意下さい。
If you pay the penalty after return vespa, I will return 50000 yen.


Please tell me your schedule in advance by e-mail. I can show you parking information for each your destination.
For tourist from foreign country
Necessities

When you borrow vespa, please bring following things.
1. drivers license of your country
2. international drivers license (you need motorcycle license)
3. passport
4. credit card

And you have to enter the details of you on application form.
And I need the hotel information (address) you stay.


For tourist from foreign country 2
About traffic in Japan

Japanese traffic is on the left.
If your country adopt driving on the right-hand side, please be careful.

Please confirm following link about Japanese traffic sign in English.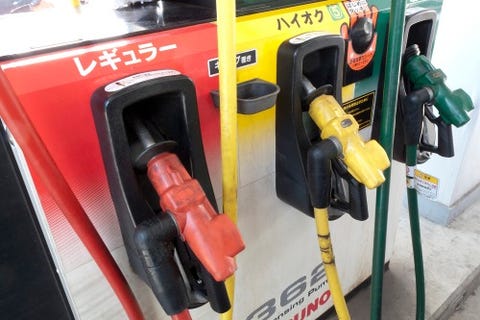 For tourist from foreign country 3
Gasoline
If you have to refuel by yourself, Please refuel following gasoline for each vespa.

Vsepa 50s(85cc) and 100 / regular gasoline (red one of the image) レギュラー in Japanese.

Vespa LX125 / high octane gasoline (yellow one) ハイオク in Japanese

If you don't need refueling, please return without refueling.
I can calculate the price of gasoline from distance meter.
2 stroke oil
You have to add 2 stroke oil after refuel to following vespa.
Vespa 50s(85cc)
Vespa 100

Please add 2% 2 stroke oil to refueling amount.
f.e. refueling 4 litter / 2 stroke oil 4000 x 0.02 = 80cc

If you forget it, engine always break! Be careful.
You have to pay money for repairing.

50sと100に給油の際は必ず給油後に2%の2サイクルオイルを入れてください。例)ガソリン4ℓの場合 4000x0.02=80cc

入れ忘れると必ずエンジンが故障します。その際は車両補償未加入の場合修理代全額お支払い願います。